Bilstein 6112 Height-Adjustable Front Shock Set For 2005+ Tacoma | 07-09 FJ Cruiser | 03-09 4Runner
SKU
BILSTEIN 6112 SET FOR TACOMA | FJ CRUISER | 4RUNNER
Bilstein 6112 Height-Adjustable Front Shock Set For 2005+ Tacoma | 07-09 FJ Cruiser | 03-09 4Runner
Designed for the serious off-road adventure seeker, the all-new BILSTEIN 6112 Series is the ultimate suspension solution. The 6112 Series optimizes off-road and on-road capabilities with a specially tuned performance coil matched with a monotube damper featuring a massive 60mm digressive piston for increased damping control. This kit features an adjustable spring seat which allows vehicle leveling, larger tires, and increased ground clearance. These units require your existing strut upper mount plates, stem cushions, and washers. If you don't want to disassemble your factory struts to get these pieces we have all of them available separately. Optionally, we can assemble these struts for you so that they're ready to bolt in. We have 5100 and 5160 rear shocks available to complete your setup.
If you choose the Unassembled option, the 47-309975 Shocks ship with Bilstein 600-lb/in coils (you will have to reuse your existing top mount or buy a new one separately).
Choosing the Fully Assembled Strut option gives you a choice of coils ranging from Bilstein's 600-lb/in coils to higher spring rate offerings from Wheeler's Off-Road and King. We will assemble them with new top mounts and ship them to you ready to bolt in.
AVAILABLE OPTIONS:
WOR-310091 - Fully Assembled option includes (2) struts with 600-lb/in Bilstein springs, new strut mounts, upper stem cushion, cushion washers, and assembly labor.
WOR-310092 - Fully Assembled option includes (2) struts with 650-lb/in Wheeler's Off-Road springs, new strut mounts, upper stem cushion, cushion washers, and assembly labor.
WOR-310093 - Fully Assembled option includes (2) struts with 700-lb/in King springs (blue color), new strut mounts, upper stem cushion, cushion washers, and assembly labor.
WOR-310094 - Fully Assembled option includes (2) struts with 700-lb/in Wheeler's Off-Road springs, new strut mounts, upper stem cushion, cushion washers, and assembly labor.
BIL-47-309975 - Unassembled option is a set of (2) struts, Bilstein 600-lb/in springs, upper stem cushions, & cushion washers.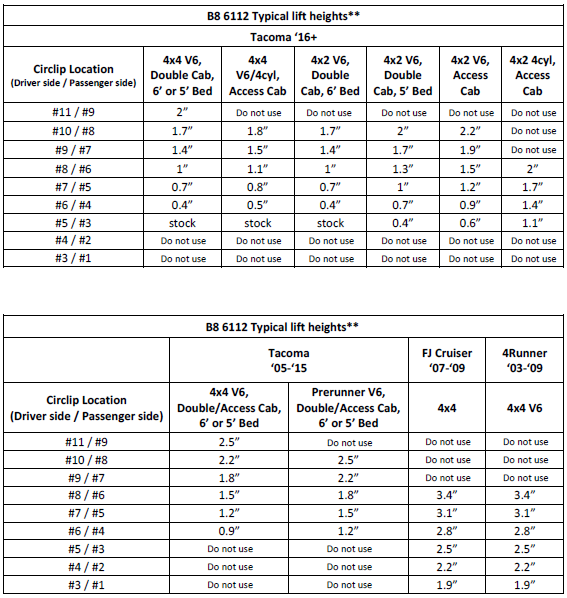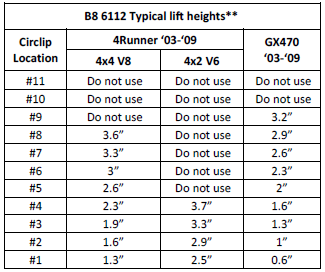 NOTE: Ride heights indicated are typical. Actual ride height is influenced by the factory suspension components the vehicle is equipped with and its condition; optional equipment and accessories on your vehicle, and other vehicle modifications such as replacement coil springs, wheel and tire combinations, aftermarket bumpers, etc.
These struts are built-to-order items. A cancellation fee of 20% will be charged if the order is canceled after strut assembly begins.
WARNING - Cancer and Reproductive Harm - www.P65Warnings.ca.gov
Lifted Height: .06-2.5"
Large 60mm monotube for increased oil capacity, cooling, and long-term durability for improved ride comfort and control over rough terrain
Custom engineered cold wound linear springs for enhanced vehicle control
Monotube design for consistent, fade-free performance
Application-specific for maximum performance
Reuses OEM top mount and rubber isolator
Available for late model trucks and SUVs which utilize a front coilover suspension
Made in the USA

Note:

Bilstein P/N 47-309975 supersedes obsolete Bilstein P/Ns 47-234413 & 46-241627
TOYOTA TACOMA
(2005-2022)

2005 Toyota Tacoma
2006 Toyota Tacoma
2007 Toyota Tacoma
2008 Toyota Tacoma
2009 Toyota Tacoma
2010 Toyota Tacoma
2011 Toyota Tacoma
2012 Toyota Tacoma
2013 Toyota Tacoma
2014 Toyota Tacoma
2015 Toyota Tacoma
2016 Toyota Tacoma
2017 Toyota Tacoma
2018 Toyota Tacoma
2019 Toyota Tacoma
2020 Toyota Tacoma
2021 Toyota Tacoma
2022 Toyota Tacoma
TOYOTA 4RUNNER
(2003-2009)

2003 Toyota 4Runner
2004 Toyota 4Runner
2005 Toyota 4Runner
2006 Toyota 4Runner
2007 Toyota 4Runner
2008 Toyota 4Runner
2009 Toyota 4Runner
TOYOTA FJ CRUISER
(2007-2009)

2007 Toyota FJ Cruiser
2008 Toyota FJ Cruiser
2009 Toyota FJ Cruiser

Bilstein Warranty Policy - North America
The following limited warranty from BILSTEIN applies to all purchasers (hereinafter "Purchaser") who have purchased a BILSTEIN aftermarket product (hereinafter "Product") in North America (hereinafter "NA") from a BILSTEIN distributor. This warranty is non-transferable.
BILSTEIN warrants that Products purchased from a BILSTEIN distributor in NA shall be free from defects in design, material and workmanship for as long as the original purchaser owns the product and it is installed on the original vehicle for which the product was purchased.
Within the warranty period, the authorized BILSTEIN distributor shall be obligated to repair or replace a defective Product at its discretion. This does not apply if the product has been used improperly and contrary to BILSTEIN's instructions. Further claims for defects by Purchaser are excluded.
To exercise its warranty rights, Purchaser must contact the BILSTEIN distributor in NA from whom the Product was originally purchased to request the return of the Product and the issue of a return goods authorization (RGA). If the Product is to be returned, Purchaser is obligated to package the Product safely for transportation, include a copy of the invoice as proof of purchase, affix the RGA number visibly and legibly to the outside of the package and return the product to the BILSTEIN distributor at its own expense. Payment by BILSTEIN or the BILSTEIN distributor of import costs (customs or other government fees, tariffs, handling fees) incurred in connection with international returns is expressly excluded.
BILSTEIN or the BILSTEIN distributor shall under no circumstances be liable for consequential damages (such as, but not limited to, labor charges and/or lost profits) resulting from the use, misuse or inability to use the Product or from defects of the Product. This limitation of liability does not apply to injuries to persons, in the event of willful intent or gross negligence, or if a material, contractual obligation was violated.
In the event of improper use, in particular installation in vehicles not recommended by BILSTEIN, track racing or off-road use (unless the product is expressly designed for such use), all warranty claims are void.
Warranty Restrictions
The limited warranties set forth above do not cover normal wear and tear and are non-transferable.
Exclusions include:
Surface finish, boot or mounting hardware such as, but not limited to, rubber bushings, bearings, valve shims
Original equipment shock absorbers - which are warranted by the vehicle manufacturer
Damage caused by improper installation
Damage caused to non-motorsports product as a result of racing, driving competition or off-road use
Use on modified or other than Bilstein-recommended vehicles
Bent or broken rods showing abuse or abnormal wear
Cosmetic damage such as scratches, notches, dents and corrosion
Damage to products which have been altered without the written approval of BILSTEIN or the BILSTEIN distributor
Damages caused by road hazards, accidents, improper use, water, flooding, fire or other natural phenomena or external causes
Warranty Categories
BILSTEIN warrants to the original retail purchaser that, for the periods specified below, each gas pressure shock shall be free from defects in material and workmanship. This warranty is non-transferable and does not cover normal wear and tear.
Proof of purchase is required to process warranty. Any implied warranty of merchantability, fitness or fitness for particular purpose, except as may be prohibited by applicable law, is likewise limited in duration to timeframe specified below, from the date of original retail purchase.
Some States do not allow limitations on how long an implied warranty lasts so the above limitation may not apply to you.
Limited Lifetime Warranty
B4 OE Replacement
B3/B4 OE Replacement Air Suspension (Spring and Strut)
B6 / B6 Performance
B8 Performance Plus
B12 Series
B14 (PSS)
B16 (PSS9 & PSS10)
B6 4600
B8 5100
B8 5100 (Ride Height Adjustable)
B8 5112
B8 6112
Limited 2 Year Warranty
B1 Air Compressor (only)
B8 5160
B8 5162
B8 8100
B8 8112
B3 Coil Springs
Steering Racks
Limited 90-Day Warranty
B1 (excluding Air Compressor)
Clubsport
Motorsport
B8 5125
B8 5165
M 7100
B8 8125
B8 9200
B8 9300
Service Repairs
To view BILSTEIN's complete Warranty Promise and Processing Procedures, please visit the BILSTEIN Warranty page.