Bilstein 6112 Series Front Coilover Pair (0-2.5" Lift) for 2005-2015 Toyota Tacoma
SKU
Tacoma Bilstein Front 6112 Series Struts 0-2.5" Lift
Bilstein 6112 Series Front Strut (0-2.5" Lift) for 05+ Tacoma
Designed for the serious off-road adventure seeker, the all-new Bilstein 6112 Series is the ultimate suspension solution. The 6112 Series optimizes off-road and on-road capabilities with a 60mm digressive piston for increased damping control. This kit features an adjustable spring seat which allows vehicle leveling, larger tires, and increased ground clearance.
Kit includes (2) front 60mm shocks, (2) spring seats, and (2) 600-lb rate springs. We have optional 650-lb and 700-lb springs available separately at an additional charge. Assembled struts include new strut plates.
6112 Kits come unassembled or can be assembled by our expert suspension team for an additional fee.
Assembly is available in 5 different height settings. Please select the option that corresponds with your desired height.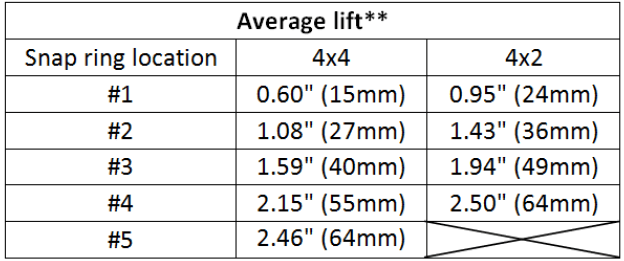 NOTE:
Lift heights may vary depending on how much weight is installed on the front of the truck (aftermarket bumpers, winches, etc.). If you have questions or concerns on which clip settings to use to obtain the desired lift, please call or e-mail Tech before ordering.
THESE STRUTS ARE BUILD-TO-ORDER ITEMS. A CANCELLATION FEE OF 20% WILL BE CHARGED IF THE ORDER IS CANCELED AFTER STRUT ASSEMBLY BEGINS.
WARNING Cancer and Reproductive Harm - www.P65Warnings.ca.gov
Large 60mm monotube for increased oil capacity, cooling, and long-term durability
60mm digressive piston for improved ride comfort and control over rough terrain
Custom engineered cold wound linear springs for enhanced vehicle control
Monotube design for consistent, fade-free performance
Application specific for maximum performance
Reuses OEM top mount and rubber isolator
Made in the USA
Kit includes (2) front 60mm shocks, (2) spring seats and (2) 600-lb rate springs

TOYOTA TACOMA
(2005-2015)

2005 Toyota Tacoma
2006 Toyota Tacoma
2007 Toyota Tacoma
2008 Toyota Tacoma
2009 Toyota Tacoma
2010 Toyota Tacoma
2011 Toyota Tacoma
2012 Toyota Tacoma
2013 Toyota Tacoma
2014 Toyota Tacoma
2015 Toyota Tacoma

ALL-PRO products are warranted to be free from defects in materials and workmanship prior to installation. Any alteration, improper use, or modification will void this warranty. This warranty is extended by All-Pro to the original purchaser. This warranty is effective for 90 days from the date of purchase. Any description of the goods is for the sole purpose of identifying them, is not a part of the bargain, and does not constitute a warranty that the goods will conform to that description. Any sample, model or advertised item is for illustrative purposes only, is not part of the basis for the bargain, and is not to be construed as a warranty that the good will conform to the sample, model, or advertised item. No affirmation of fact or promise made by All-Pro will constitute a warranty that the goods will conform to the affirmation or promise.

Purchasers and users of our products are responsible for determining the applicability of a product to their specific application. In the event of a defect, malfunction, or failure to conform to this warranty, All-Pro will repair or replace the goods without charge within 30 days of receipt of goods. If All-Pro is unable to replace and/or repair the goods or if All-Pro, at its sole discretion, determines that neither option is commercially practicable or cannot be made within 30 days of receipt of the goods, All-Pro will refund the purchase price. The purchaser is responsible for installation and removal of all parts, freight or shipping costs, and incidental or consequential damages.